DISCOLORATION OF WATER CONTAMINATED BY THE TEXTILE DYE RED TS3B UTILIZING ULTRAVIOLET RADIATION AND ZnO AS A PHOTOCATALYST
Abstract
The current research project consisted of discoloring water contaminated by the textile dye Red TS3B, utilizing ultraviolet radiation and ZnO as a photocatalyst, towards this end, a spectrophotometric method for the quantification of dye was validated, and this method presented an adequate linearity and sensibility. For the discoloration trial run, a factorial design (22), in order to optimize the experimental factors of pH and ZnO dosage per 250 mL of solution, was executed. The best discoloration was achieved at 180 minutes of photocatalytic reaction, when it worked with a pH of 11 and a dosage of 0.2 g of ZnO per 250 mL of colored solution, achieving a degradation percentage of 97.5 % of dye in solution.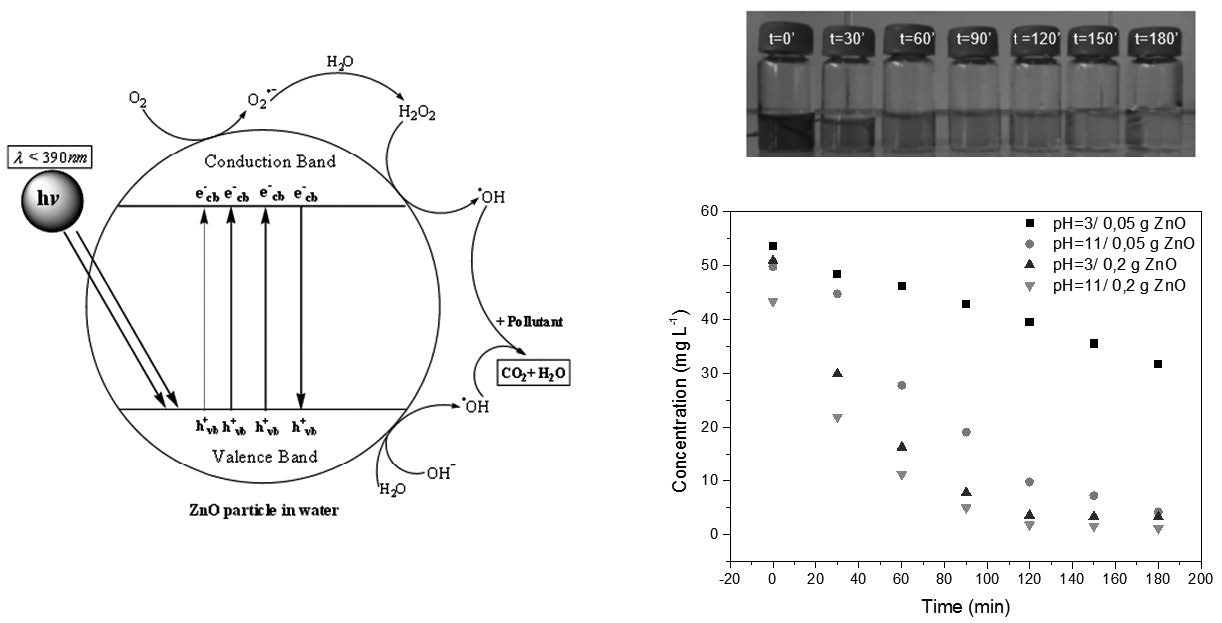 References
Soares, P.A., Silva, T.F.C.V., Manenti, D.R. et al. Environ. Sci. Pollut. Res. 21, 932 (2014).

Mittal, M., Sharma M., Pandey O.P. Sol. Energy. 110, 386 (2014).

Byrne, C., Subramanian G., Pillai S.C. Recent Advances in Photocatalysis for Environmental Applications. J. Environ. Chem. Eng. (2017).

Achouri F., Corbel S., Aboulaich A., Balan L., Ghrabi A., Said M.B., Schneider R. J. Phys. Chem. Solids. 75, 1081, (2014).

Daneshvar, N., Salari D., Khataee A.R. J. Photochem. Photobiol. A Chem. 162, 317 (2004).

Rahman, Q.I., Ahmad M., Misra S.K., Lohani M. Mater. Lett. 91, 170 (2013).

Sakthivel, S., Neppolian B., Shankar M.V., Arabindoo B., Palanichamy M., Murusugesan V. Sol. Energy Mater. Sol. Cells. 77, 65 (2003).

Corzo, A., Vega J. Rev. Iberoam. Pol. 13, 60 (2012).

Copyright (c) 2019 Journal of the Chilean Chemical Society

This work is licensed under a Creative Commons Attribution-NonCommercial-ShareAlike 4.0 International License.