Vol 68 No 2 (2023): Journal of the Chilean Chemical Society
Original Research Papers
ISOLATED LIGNANS OF ARAUCARIA ARAUCANA (MOLINA) K. KOCH PROVIDE WOOD PROTECTION AGAINST ATTACK BY THE XYLOPHAGOUS FUNGUS PLEUROTUS OSTREATUS (JACQ.) P. KUMM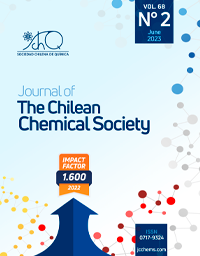 Published
August 22, 2023
How to Cite
Bravo, G., Torres, S., Perez, C., Gonzalez-Ramirez, M., Figueroa, F., Cabrera-Barjas, G., Aranda, M., Tiezzi, A., Gavin, J., Paz, C., & Becerra, J. (2023). ISOLATED LIGNANS OF ARAUCARIA ARAUCANA (MOLINA) K. KOCH PROVIDE WOOD PROTECTION AGAINST ATTACK BY THE XYLOPHAGOUS FUNGUS PLEUROTUS OSTREATUS (JACQ.) P. KUMM. Journal of the Chilean Chemical Society, 68(2), 5871-5875. Retrieved from https://jcchems.com/index.php/JCCHEMS/article/view/2334
Copyright (c) 2023 SChQ
This work is licensed under a Creative Commons Attribution-NonCommercial-ShareAlike 4.0 International License.
Abstract
Araucaria araucana (Molina) K. Koch is an evergreen conifer endemic to Southern Chile and it is considered a sacred tree by the originary people Pehuenche. A. araucana is endangered in the red book. The knots wood of A. araucana are resistant to biological degradation, due to producing a high amount of lignans, even after the decomposition of the tree is possible to find its knots in the forest. In the present study the chemical composition of three wood tissue of A. araucana; knotwood, stemwood, and branches were analyzed by HPTLC-MS, GC-MS, and NMR. Three lignans were purified and identified as eudesmin (1), ((1S,2R,3R) 1,2,3,4-tetrahydrona phthalene-2,3-diyl) dimethanol (2) and secoisolarisiresinol (3). Folin-Ciocalteu, DPPH and resistance to biodegradation assays were evaluated to extracts from compressed wood zones. Eudesmin was identified as the principal lignan in knots with a 0.5%w/w and outperformed the fungicide Nipacide® P511 in protecting wood against xylophage fungi Pleurotus ostreatus (Jacq.) P. Kumm.
References
M.F.Garndner, A. Lara. IV International Conifer Conference 615 (1999).
E. Ruiz, F. González, C. Torres-Díaz, G. Fuentes, M. Mardones, T. Stuessy, R. Samuel, J. Becerra, M. Silva. TAXON. 56, 1221, (2007).
M. Rugolo, B. Lechner, R. Mansilla, G. Mata, M. Rajchenberg. Maderas. Ciencia y Tecnología. 22, 517, (2020).
G. Bravo-Arrepol, S. Torres, F. Figueroa, C. Pérez, C. Paz, G. Turchetti, A. Tiezzi, J. Becerra. Journal of the Chilean Chemical Society. 65, 4953, (2020).
B. Holmbom, C. Eckerman, P. Eklund, J. Hemming, L. Nisula, M. Reunanen, R. Sjöholm, A. Sundberg, K. Sundberg, S. Willför. Phytochem Rev. 2, 331, (2003).
S. Willför, J. Hemming, M. Reunanen, C. Eckerman, B. Holmbom. Holzforschung. 57, 27, (2003).
R.J. Anderegg, J.W. Rowe. Holzforschung. 28, 171, (1974).
G. Schmeda-Hirschmann, L. Astudillo, J. Rodríguez, C. Theoduloz, T. Yáñez. Journal of Ethnopharmacology. 101, 271, (2005).
C.L. Céspedes, J.G. Avila, A.M. García, J. Becerra, C. Flores, P. Aqueveque, M. Bittner, M. Hoeneisen, M. Martinez, M. Silva. Zeitschrift für Naturforschung C. 61, 35, (2006).
S.M. Willför, A.I. Smeds, B.R. Holmbom. Chromatographic analysis of lignans. J Chromatogr A. 1112, 64, (2006).
L.P. Meagher, G.R. Beecher, V.P. Flanagan, B.W. Li. J Agric Food Chem. 47, 3173, (1999).
H. Horai, M. Arita, S. Kanaya, Y. Nihei, T. Ikeda, K. Suwa, Y. Ojima, K. Tanaka, S. Tanaka, K. Aoshima. J Mass Spectrom. 45, 703, (2010).
U.A. Fischer, A.V. Jaksch, R. Carle, D.R. Kammerer. Agric Food Chem. 60, 283, (2012).
S. Yamamoto, A. Otto, B.R.T. Simoneit. Journal of Mass Spectrometry. 39, 1337, (2004).
C.A. Donoso, J. Becerra, M. Bittner, J.P. Elissetche, J. Freer, R. Mendoza, O. Sterner, M. Silva. Allelopathy J. 21, 119, (2008).
R. Piispanen , S. Willför, P. Saranpää, B. Holmbom. Trees. 22, 317, (2008).