Vol 68 No 1 (2023): Journal of the Chilean Chemical Society
Original Research Papers
PHYTOCHEMICAL, ANTIMICROBIAL, RADICAL SCAVENGING AND IN- VITRO BIOLOGICAL ACTIVITIES OF TEUCRIUM STOCKSIANUM LEAVES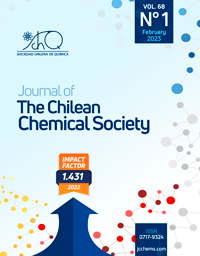 Keywords
Teucrium stocksianum, phytochemical constituents, antimicrobial, antioxidant properties.
How to Cite
Rahim, G., Qureshi, R., Hazrat, A., Ahmad, B., Ali Khan, A., Aziz, T., Alharbi, M., & Alshammari, A. (2023). PHYTOCHEMICAL, ANTIMICROBIAL, RADICAL SCAVENGING AND IN- VITRO BIOLOGICAL ACTIVITIES OF TEUCRIUM STOCKSIANUM LEAVES. Journal of the Chilean Chemical Society, 68(1), 5748-5754. Retrieved from https://jcchems.com/index.php/JCCHEMS/article/view/2295
Copyright (c) 2023 SChQ
This work is licensed under a Creative Commons Attribution-NonCommercial-ShareAlike 4.0 International License.
Abstract
Teucrium stocksianum is locally used as home remedy in different parts of the world for the treatment of digestive problems as well as microbial infections. The present study was designed to screen phytochemical constituents and in vitro antimicrobial as well as radical scavenging activities of the leaves extracts from the Teucrium stocksianum. Methods: Plant samples of the Teucrium stocksianum were collected from the growing locality and four different solvents viz., n-hexane, methanol, ethanol, and water were used for the preparation of plant extracts. The in vitro biological activities were investigated against eight human pathogens such as like Bacteria: Staphylococcus aureus, Staphylococcus epidermidis, Streptococcus pyogen, Escherichia coli, Klebsiella pneumoniae and Pseusdomonas aeruginosa and Fungi: Aspergillus niger and Aspergillus fumigatus using agar well diffusion method and minimum inhibitory concentration. The antioxidant properties were carried out by DPPH and reducing power assays using various concentrations. Results: Results revealed that all pathogens were highly susceptible and inhibited by all solvent extracts. The methanolic and ethanolic leaves extracts exhibited promising antimicrobial activity and inhibited the growth of pathogens at par with the standard drugs viz., chloramphenicol for Bacteria and Fluconazole for fungi. Moreover, performance of methanolic and ethanolic extracts was the best amongst all solvents. In terms of antioxidant properties, both methods i.e., DPPH free radicals and reducing power resulted significant activity. Conclusion: The Phytochemical screening and biological activities of Teucrium stocksianum leaves extracts is reported for the first time. The ethanol, methanol, n-hexane and aqueous extracts of Teucrium stocksianum possess significant inhibitory effect against tested pathogens. The present investigation Teucrium stocksianum leaves extract contain potential antimicrobial components that may be of great use for the development of pharmaceutical industries as a therapy against various diseases. These results denote in-depth analysis of methanolic and ethanolic extracts to search potential compound responsible for antimicrobial activity. The results of the study support the folklore claim along with the development of new antimicrobial drugs from the plant. The results showed that Teucrium stocksianum leaves extracts possess multiple essential phytochemicals. Presence of phenolic compounds in plant extract demonstrates antioxidant activity. Both tests for antioxidant properties exhibited marked effects and can be employed as a potential natural antioxidant agent which may be used for mitigating oxidative stress. Nevertheless, there is need to explore mechanism involved for such kind of activity. The current findings hold up the ethno-pharmacological utilization of plant in the treatment of microbial infections and embrace great perception in the development of unusual antimicrobial and antioxidant agents.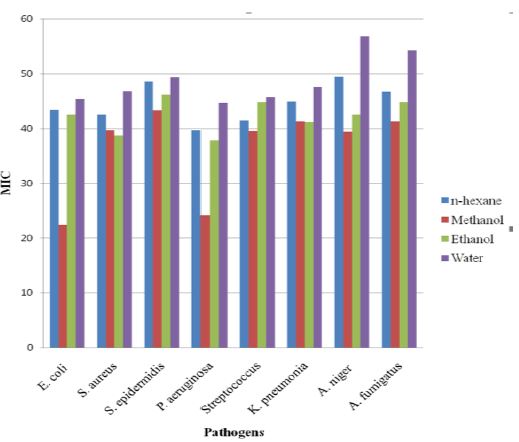 References
Western AR: The flora of the United Arab Emirates: An introduction. United Arab Emirates University 1989.
Nadaf SK, Al-Farsi SM, Al-Hinai V: Germplasm collection of range land forage and medicinal plant species in north Oman. In: Ann. Rep. ICARDA–APRP. ICARDA–APRP, Dubai 2003, 63–64.
Mojab F, Javidnia K, Yazdani D and Rustaiynan A: Essential oil of the aerial parts of Teucrium stocksianum Boiss. Subsp. stocksianum (Lamiacea) from Iran. J. Med. Plants 2003, 2: 49-53.
Radhakrishnan RM, Zakaria MNM, Islam MW, Kamil M, Ismail A, Chan K, Al-Attas A: Analgesic and anti-inflammatory activities of Teucrium stocksianum. Pharm. Biol 2001, 39: 455-459.
Barkatullah IM and Hussain F: Ethnobotanical studies of plants of Charkotli Hill, Batkhala, District, Malakand, Pakistan. Front. Biol. China 2009, 4: 539-548.
Islam MW, Zakaria MNM, Radhakrishnan R, Kamil M, Chan KC and Al-Attas A: Effect of Teucrium stocksianum on gastric ulceration and secretion in rats. Pharm. Biol 2002, 40: 216–220
Iqbal I and Hamayun M: Studies on the traditional uses of plants of Malam Jabba valley, District Swat, Pakistan. Ethnobotanical Leaflets; Int. Web Journal 2004, 1–30, 12 May 2006.
Kamali HH, Amir MYEL EL: Antibacterial Activity and Phytochemical Screening of Ethanolic Extracts Obtained from Selected Sudanese Medicinal Plants. Curr. Res. J. of Bio. Sci. 2010; 2: 143-146.
Lalitha P, Arathi KA, Shubashini K, Sripathi, Hemalatha S, Jayanthi P: Antimicrobial Activity and Phytochemical Screening of an Ornamental Foliage Plant, Pothos aurea (Linden ex Andre). An Int. J. of Chem. 2010; 1: 63-71.
Iniaghe OM, Malomo SO and Adebayo JD: Proximate composition and Phytochemical constituents of leaves of some Acalypha species. J. of Nutrition 2009, 8:256-258.
Preethi R, Devanathan VV, Loganathan M: Antimicrobial and Antioxidant Efficacy of Some Medicinal Plants against Food Borne Pathogens. Adv. in Bio.Res. 2010. 4: 122-125.
Sharma A: Antibacterial activity of ethanolic extracts of some arid zone plants. Int. J. of Pharm.Tech. Res. 2011; 3:283-286.
Enne VI, Livermore DM, Stephens P, Hal LMC: Persistence of sulphonamide resistance in Escherichia coli in the UK despite national prescribing restriction. The Lancet. 2001; 28: 1325-1328.
Westh H, Zinn CS, Rosdahl VT: An international multicenter study of antimicrobial consumption and resistance in Staphylococcus aureus isolates from 15 hospitals in 14 countries. Microb. Drug Resist. 2004; 10: 169-176.
Kim H, Park SW, Park JM, Moon KH, Lee CK: Screening and isolation of antibiotic resistance inhibitors from herb material Resistant Inhibition of 21 Korean plants. Nat. Prod. Sci. 1995; 1: 50 - 54.
Alagesaboopathi C: Antimicrobial Potential and Phytochemical Screening of Andrographis Affinis Nees an Endemic Medicinal Plant from India. Int. J. of Pharma and Pharmaceutical Sci. 2011; 3: 157- 159.
Ahmad I, Beg AZ: Antimicrobial and phytochemical studies on 45 Indian medicinal plants against multiple drug resistant human pathogens. J. Ethanopharma. 2001; 74: 113-123.
Hedge, I.C: Flora of Pakistan (Labiatae) edited by Nasir E, Ali SI, 192. University of Karachi 1990,
Dellavalle PD, Cabrera1 A, Alem D, Larrañaga P, Ferreira F and Rizza MD:Antifungal activity of medicinal plant extracts against phytopathogenic fungus Alternaria spp. Chilean Journal of Agricultural Research 2011, 71: 231-239.
Sofowora A: Medicinal Plants and Traditional Medicine in Africa. John Wiley and son Ltd 1993, 150-153.
Trease GE and Evans WC: Pharmacognosy. 11th Ed. Brailliar Tiridel and Macmillian Publishers, London1989,
Harborne JB: Phytochemical Methods 3rd Ed. Chapman and Hall Ltd., London 1973, 135-203.
Hemaiswarya S, Raja R, Anbazhagan C and Thiagarajan V: Antimicrobial and mutagenic properties of the root tubers of Gloriosa superba Linn. (Kalihari). Pak. J. Bot 2009, 41: 293-299.
Bertani G: Lysogeny at mid-twentieth century: P1, P2, and other experimental systems. Bacteriol. 2004, 186: 595-600.
Luqman S, Srivastava S, Darokar MP and Khanuja SPS: Detection of antibacterial activity in spent roots of two genotypes of aromatic grass Vetiveria zizanioides. Pharm. Bio 2005, 43: 732–736.
Sultanova N, Makhmoor T, Abilov ZA, Parween Z ,Omurkamzinova VB, Rahman A, Choudhary MI:Antioxidant and antimicrobial activities of Tamarix ramosissima. J. Ethnopharmacol 2001, 78: 201–205.
Akinyemi KO, Oladapo O, Okwara CE, Ibe CC, Fasure KA: Screening of crude extracts of six medicinal plants used in South–West Nigerian unorthodox medicine for antimethicillin resistant S. aureus activity. BMC Comp. Alt. Med. 2005; 5:1-7.
Blois M.S: Antioxidant determinations by the use of a stable free radical. Nature 1958, 26: 1199-2000.
Yıldırım A, Mavi A and Kara AA: Antioxidant and antimicrobial activities of Polygonum cognatum Meissn extracts. J. Sci. Food Agric 2003, 83: 64-69.
Oyaizu M: Studies on product of browing effect reaction prepared from glucose amine. J. Nutr1986, 44: 307-315
Omar K, Geronikaki A, Zoumpoulakis P, Camoutsis C, Sokovic M, Ciric A, Glamoclija J: Novel 4-thiazolidinone derivatives as potential antifungal and antibacand antibacterial drugs. Bioorg. & Med. Chem. 2010; 18: 426–432.
Ghosal S, Krishna-Prasad BN and Laksmi V: Anti-amoebic activity of Piper longum fruits against Entamoeba histolytica in vivo. J.Ethnopharmacol 1996, 50: 167-170.
Dixon RA, Dey PM, Lamb CJ: Phytoalexins: enzymology and molecular biology. Adv. Enzymol. 1983, 55: 1-69.
Harborne JB: Flavonoids in the Environment: Structure-activity relationships. In: V. Cody, E. Middleton, Jr., J. B. Harborne, A. Beretz (Eds.), Plant Flavonoids in Biology and Medicine II.Biochemical, Cellular and Medicinal Properties. Alan R. Liss, New York 1988, 17-27.
McDevith JT, Schneider DM, Katiyar SK and Edlind FS:Berberina: a candidate for the treatment of diarrhea in AIDS patients abstract No. 175. 36th Interscience conference on Antimicrobial Agents and Chemotherapy. American Society for Microbiology, Washington, DC 1996,
Cowan M: Plant products as antimicrobial agents. Clin. Microbiol. Rev. 1999; 12: 564-582.
Trease GE and Evans WC: Pharmacognosy. 11th Edition, Tindal LTD, London 1985, 60-75.
Lewis WH and Elvin-Lewis MP: Medicinal plants as sources of new therapeutics. Ann. Mo. Bot. Gard 1995, 82: 16-24.
Okwu DE: Phytochemicals and vitamin content of indigenous species of South Eastern Nigeria. J. Sustain Agric. Environ 2004, 6: 30-34.
Cushnie TP and Lamb AJ: Antimicrobial activity of flavonoids, Int.J.Antimicrobial Agents 2005, 26: 343-356.
Okwu DE. Evaluation of chemical composition spices and flavouring agents. Global J. Pure Appl. Sci., 2001, 7: 455-459.
Scalbert A: Antimicrobial properties of tannins. Phytochemistry 1991, 30: 3875- 3882.
Asquith TN and Butter LG: Interaction of condensed tannins with selected proteins. Phytochemistry 1986, 25: 1591-1593.
Chikezie PC, Agomuo EN and Amadi BA: Biochemistry, Practical/Research Method: A Fundamental Approach. Mega soft publishers 2008, 2: 51-53.
McManus JP, Davis KG, Beart, JE, Gaffney SH., Lilley TH and Haslam E: Polyphenolinteractions. Part 1. Introduction: Some observations on the reversible complexation of polyphenols with proteins and polysackarides. J. Chem. Soc. Perkin Trans II 1985, 9: 1429-1438.
Siwaswamy SN, Mahadevan A: Effect of tannins on the growth of Chaetomium cupreum. Journal of Indian Botanical Society 1986, 65: 95-100.
Haslam E: Plant Polyphenols- Vegetable Tannins Revisited. Cambridge University Press, Cambridge,U.K 1989,
Haslam E: Natural Polyphenols (vegetable tannins) as drugs: possible modes of action. J. Nat. Prod 1996, 59:205-215.
Olayinka AO, Onoruvwe O and Lot TY: Cardiovascular effects of Methanolic extract of the stem bark of Khaya senegalensis. Phytotherapy Research 1992, 6: 282-284.
Harborne JB, Baxter H, Moss GP: Phytochemical dictionary. A handbook of bioactive compounds from plants 1999, 2nd ed. London, UK. Taylor & Francis.
Kelmanson JE, Jager AK and Vaan Staden J: Zulu medicinal plants with antibacterial activity. J. Ethanopharmacol. 2000; 69: 241-246.
Guleria S, Kumar A: Antifungal activity of some Himalayan medicinal plants using direct bioautography. J. Cell Mol. Bio. 2006; 5: 95-98.
Zakaria Z, Sreenivasan S, Mohamad M: Antimicrobial Activity of Piper ribesoides Root Extract against Staphylococcus aureus. J. App. Biol. Sci. 2007, 1: 87-90.
Ilango K, Chitra V, Kanimozhi P, Balaji G: Antidiabetic, Antioxidant and Antibacterial Activities of Leaf extracts of Adhatoda zeylanica. Medic (Acanthaceae). J. Pharm. Sci. & Res. 2009; 2:67-73.
Geethalakshmi R, Sarada DVL, Marimuthu P: Evalution of antimicrobial and antioxidant potentials of Trianthema decandra L. Asian J. of Biotech. 2010; 2: 225-231.
Rahman MS, Salehin MF, Jamal MA, Pravin HM, Alam A: Antibacterial activity of Argemone mexicana L. against water brone microbes. Res. J. of Medicinal plant. 2011; 5: 621-626.
Upadhyay RK, Tripathi R, Ahmad S: Antimicrobial activity of two Indian medicinal plants Tinospora cordifolia (Family: Menispermaceae) and Cassia fistula (Family: Caesalpinaceae) against human pathogenic bacteria. J. of Pharma. Res. 2011; 4:167-170.
Seyydnejad SM, Niknejad M, Darabpoor I, Motamedi H: Antibacterial Activity of Hydroalcoholic Extract of Callistemon citrinus and Albizia lebbeck. American J.of App. Sci. 2010; 7: 13-16.
Murugesan S, Pannerselvam A, Chanemougame TA: Phytochemical screening and antimicrobial activity of the leaves of Memecylon umbellatum Burm. F.J. of App. Pharma. Sci. 2011; 1: 42-45.
Thatoi HN, Panda SK, Rath SK, Dutta SK: Antimicrobial Activity and Ethnomedicinal Uses of Some Medicinal Plants from Similipal Biosphere Reserve, Orissa. Asian J. of Plant Sci. 2008; 7: 260-267.
Arora DS, Kaur GJ: Antibacterial activity of some Indian medicinal plants. J. Nat. Med. 2007; 61:313–317.
Gurudeeban S, Rajamanickam E, Ramanathan T, Satyavani K: Antimicrobial activity Of Citrullus colocynthis in Gulf of Mannar. Int. J. of Curr. Res. 2010; 2: 078-081.
Pavithra PS, Janani VS, Charumathi KH, Indumathy R, Potala S, Verma RS: Antibacterial activity of the plant used in Indian herbal medicine. Int. J. of green pharma. 2010; 10: 22-28.
Maji S, Dandapat P, Ojha D, Maity C, Halder SK, Das PK, Mohapatra T, Pathak K, Pati BR, Samanta A, Mondal KC: In vitro antimicrobial potentialities of different Solvent extracts of ethnomedicinal plants against clinically isolated human pathogens. Journal of Phytology. 2010; 2: 57–64.
Naveed, M.; Batool, H.; Rehman, S.u.; Javed, A.; Makhdoom, S.I.; Aziz, T.; Mohamed, A.A.; Sameeh, M.Y.; Alruways, M.W.; Dablool, A.S.; Almalki, A.A.; Alamri, A.S.; Alhomrani, M. Characterization and Evaluation of the Antioxidant, Antidiabetic, Anti-Inflammatory, and Cytotoxic Activities of Silver Nanoparticles Synthesized Using Brachychiton populneus Leaf Extract. Processes 2022, 10, 1521.
Saleem, A.; Afzal, M.; Naveed, M.; Makhdoom, S.I.; Mazhar, M.; Aziz, T.; Khan, A.A.; Kamal, Z.; Shahzad, M.; Alharbi, M.; Alshammari, A. HPLC, FTIR and GC-MS Analyses of Thymus vulgaris Phytochemicals Executing In Vitro and In Vivo Biological Activities and Effects on COX-1, COX-2 and Gastric Cancer Genes Computationally. Molecules 2022, 27, 8512.
Naveed, M.; Bukhari, B.; Aziz, T.; Zaib, S.; Mansoor, M.A.; Khan, A.A.; Shahzad, M.; Dablool, A.S.; Alruways, M.W.; Almalki, A.A.; Alamri, A.S.; Alhomrani, M. Green Synthesis of Silver Nanoparticles Using the Plant Extract of Acer oblongifolium and Study of Its Antibacterial and Antiproliferative Activity via Mathematical Approaches. Molecules 2022, 27, 4226.