Vol 67 No 4 (2022): Journal of the Chilean Chemical Society
Original Research Papers
PHYTOCHEMICAL STUDY ON ECTOMYCORRHIZAL FUNGI Cortinarius magellanicus: AN UNUSUAL BROMINATED SECONDARY METABOLITE ISOLATED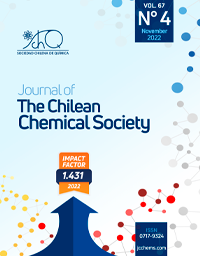 Published
January 10, 2023
Keywords
Brominated saccharide

,

Cortinarius magellanicus

,

metabolite characterization

,

Nothofagus ectomycorrhizal fungi

,

phytochemical analysis
How to Cite
Bacho, M., Cajas, D., Becerra, J., Fajardo, V., & San-Martín, A. (2023). PHYTOCHEMICAL STUDY ON ECTOMYCORRHIZAL FUNGI Cortinarius magellanicus: AN UNUSUAL BROMINATED SECONDARY METABOLITE ISOLATED. Journal of the Chilean Chemical Society, 67(4), 5737-5740. Retrieved from https://jcchems.com/index.php/JCCHEMS/article/view/2170
Copyright (c) 2023 SChQ
This work is licensed under a Creative Commons Attribution-NonCommercial-ShareAlike 4.0 International License.
Abstract
Phytochemical analysis of the basidiomycete Cortinarius magellanicus (family Cortinariaceae) resulted in the isolation of eight secondary metabolites, where a brominated secondary metabolite was isolated for first time from a natural source. The structure elucidation of this compound was made using one- and two-dimensional NMR experiments, FT-IR, GC-MS, HRESIMS and chemical derivation. The disk diffusion assay of the brominated compound 4 and 8 revealed a low inhibition on Gram-positive and Gram-negative bacteria, respectively. No antifungal activities were detected for these compounds.

References
Beattie KD, Rouf R, Gander L, May TW, Ratkowsky D, Donner CD, Gill M, Grice ID, Tiralongo E. Antibacterial metabolites from Australian macrofungi from the genus Cortinarius. Phytochemistry. 71(8–9):948–955, (2010).
Beattie KD, Thompson DR, Tiralongo E, Ratkowsky D, May TW, Gill M. Austrocolorone B and austrocolorin B1, cytotoxic anthracenone dimers from the Tasmanian mushroom Cortinarius vinosipes Gasparini. Tetrahedron Lett. 52(42):5448–5451, (2011).
Beekman AM, Wossa SW, Kevo O, Ma P, Barrow RA. Discovery and Synthesis of Boletopsins 13 and 14, Brominated Fungal Metabolites of Terrestrial Origin. J Nat Prod. 78(8):2133–2135. (2015).
Deacon J. Fungal Biology. Blackwell. Publishing B, editor. Blackwell publishing: Blackwell publishing. 2006.
Dembitsky V, Tolstikov G. Natural Halogenated Mononuclear Phenol Compounds and Their Derivatives. Chem Sustain Dev. 11:567–575, (2003).
Fehér D, Barlow R, McAtee J, Hemscheidt TK. Highly Brominated Antimicrobial Metabolites from a Marine Pseudoalteromonas sp . J Nat Prod. 73(11):1963–1966, (2010).
Geissler T, Brandt W, Porzel A, Schlenzig D, Kehlen A, Wessjohann L, Arnold N. Acetylcholinesterase inhibitors from the toadstool Cortinarius infractus. Bioorganic Med Chem. 18(6):2173–2177, (2010).
Gottardi W, Klotz S, Nagl M. Superior bactericidal activity of N-bromine compounds compared to their N-chlorine analogues can be reversed under protein load. J Appl Microbiol. 116(6):1427–1437, (2014).
Gurst JE. NMR and the Structure of D-Glucose. Textb Forum. 68(12):1003–1004, (1991).
Heleno S a., Barros L, Sousa MJ, Martins A, Ferreira ICFR. Tocopherols composition of Portuguese wild mushrooms with antioxidant capacity. Food Chem. 119(4):1443–1450, (2010).
Igarashi K. The Koenigs-Knorr Reaction. p. 243–283, (1977).
Kehoe MA. Chapter 11 Cell-wall-associated proteins in Gram-positive bacteria. New Compr Biochem. 27(C):217–261, (1994).
Koronakis V, Hughes C. Chapter 20 Secretion of hemolysin and other proteins out of the Gram-negative bacterial cell. New Compr Biochem. 27(C):425–446, (1994).
Lin Chan Ching, Huang LC, Liang PH, Liu CY, Lin Chun Cheng. Large-scale synthesis of per-O-acetylated saccharides and their sequential transformation to glycosyl bromides and thioglycosides. J Carbohydr Chem. 25(4):303–313, (2006).
Matin MM, Bhuiyan MMH, Afrin A, Debnath DC. Comparative Antimicrobial Activities of some Monosaccharide and Disaccharide Acetates. J Sci Res. 5(3):515–525, (2013).
Ministerio del medio ambiente Chile. Ficha de antecedentes Cortinarius magellanicus Spegazzini. :1–5. 2014.
Nicholas GM, Blunt JW, Munro MHG. Cortamidine oxide, a novel disulfide metabolite from the New Zealand basidiomycete (mushroom) Cortinarius species. J Nat Prod. 64:341–344, (2001).
Niveiro N, Albertó E. Checklist of the Argentine Agaricales 7. Cortinariaceae and Entolomataceae. Check List. 10(1):72, (2014).
Odlaug TE. Antimicrobial Activity of Halogens. J Food Prot. 44(8):608–613, (1981).
Poinsot V, Carpene MA, Couderc F. Coupled Mass Spectrometric Strategies for the Determination of Carbohydrates at Very Low Concentrations: The Case of Polysaccharides Involved in the Molecular Dialogue Between Plants and Rhizobia. The Complex World of Polysaccharides. 2012.
Pomin VH. Unravelling Glycobiology by NMR Spectroscopy. Intech.:63–98. (2012).
Sande D, de Oliveira GP, Moura MAF., Martins B de A, Lima MTNS, Takahashi JA. Edible mushrooms as a ubiquitous source of essential fatty acids. Food Res Int. 125(March):108524, (2019).
Semon E, Mauvais G, De Jong E, Spinnler H, Le Quere J. Production of halogenated compounds by Bjerkandera adusta. Appl Microbiol Biotechnol. 42:212–221, (1994).
Sontag B, Frode R, Bross M, Steglich W. Chromogenic triterpenoids from Cortinarius fulvoincarnatus, C-sodagnitus and related toadstools (Agaricales). European J Org Chem.:255–260, (1999).
Tan JW, Dong ZJ, Liu JK. New cerebrosides from the basidiomycete Cortinarius tenuipes. Lipids. 38(1):81–84, (2003).