Vol 66 No 3 (2021): Journal of the Chilean Chemical Society
Original Research Papers
EFFECT OF IN VITRO DIGESTION GASTROINTESTINAL OF THE EXTRACT AQUEOU OF LEAVES OF Ugni molinae, ON THE VIABILITY OF COLORECTAL CANCER CELLS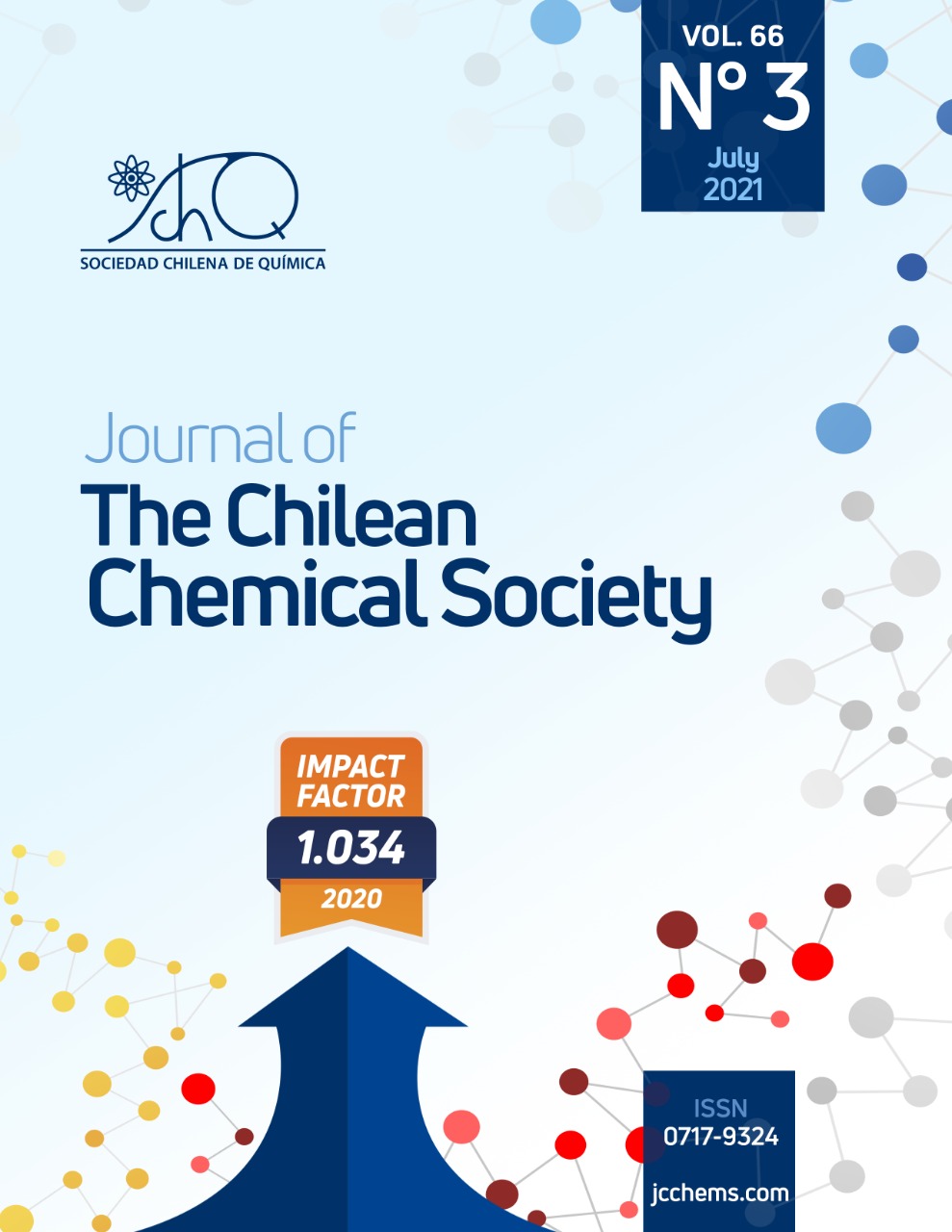 Published
September 14, 2021
Keywords
Digestion gastrointestinal

,

Viability

,

Caco-2

,

Ugni molinae
How to Cite
Avello, M., Torres Vallejos, E., Carvajal, R. I., & Pastene, E. (2021). EFFECT OF IN VITRO DIGESTION GASTROINTESTINAL OF THE EXTRACT AQUEOU OF LEAVES OF Ugni molinae, ON THE VIABILITY OF COLORECTAL CANCER CELLS. Journal of the Chilean Chemical Society, 66(3), 5268-5267. Retrieved from https://jcchems.com/index.php/JCCHEMS/article/view/1705
Copyright (c) 2021 SChQ
This work is licensed under a Creative Commons Attribution-NonCommercial-ShareAlike 4.0 International License.
Abstract
Aim: This work is aimed to the study the effect of aqueous extracts obtained from leaves of Ugni molinae and their respective products of in vitro gastrointestinal digestion on the viability of colon cancer cells.
Methods: Ugni molinae leaves were used to prepare a 1%, aqueous extract and with this, an in vitro gastrointestinal digestion was performed, obtaining, fraction products of digestion gastrointestinal (Dgi) and fraction residue. this fraction was identified through liquid chromatography (HPLC-UV) and liquid chromatography-mass spectrometry (HPLC-MS), and then these samples were evaluated in different viability tests, such as trypan blue exclusion, metabolic activity 3-(4,5-dimethylthiazol-2-yl)-2,5-diphenyltetrazolium bromide (MTT) and cytotoxicity by lactate dehydrogenase (LDH), on colorectal cancer cells (CaCo-2) and human embryonic kidney 293 cells (HEK) for a period of 24 and 48 hours.
Results and discussion: The aqueous extracts of leaves of Ugni molinae and their digestion fractions caused inhibition of the viability of Caco-2 cells. In most cases, the effect was concentration-dependent and in particular, the only compound that generated inhibition of the viability in all trials corresponded to the Dgi fraction. 
Conclusion: The results are favorable, since it is finally is this product that would act in the gastrointestinal tract, interacting with the target cells. These results are important since in most cases, these compounds had effects on cancer cells Caco-2 and not on HEK cells at the same concentrations used in each trial.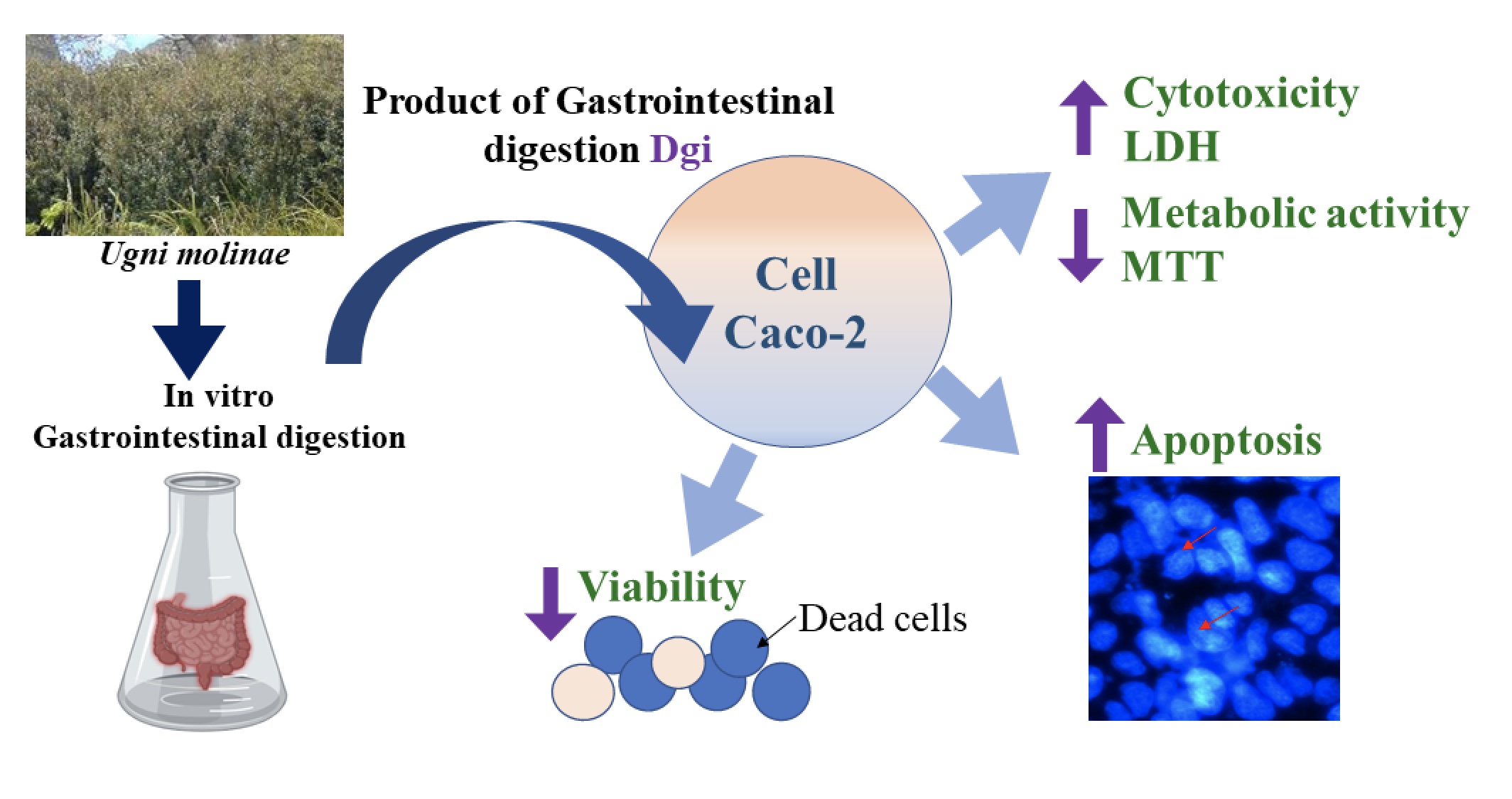 References
L. Itriago, N. Silva, G. Cortes, Rev. Med. Clin. Condes. 24, 531-552, (2013).
M. Polikandrioti, E. Gerasimou, G. Kotronoulas, A. Tsami, E. Evagelou, H. Kyritsi, Nosileftiki. 49, 377-386, (2010).
Guía Clínica AUGE, S.d.S.P, Mins. Gob. Chil.1-62, (2014).
F. Saura-Calixto, J. Serrano, I. Goñi, Food Chem. 101, 492-501, (2007).
N. Seeram, L. Adams, S. Henning, Y. Niu, Y. Zhang, M. Nair, J. Nutr. Biochem. 16, 360-367, (2005).
González-Sarrías, A., Azorín-Ortuño, M., Yáñez-Gascón, M.J., Tomás-Barberán, F.A., García-Conesa, M.T., J. Espín, J. Agr. Food Chem. 57, 5623-5632, (2009).
M. Suwalsky, P. Orellana, M. Avello, F. Villena, Food Chem. Toxicol. 45, 130–135, (2007).
M. Avello, E. Pastene, E. Bustos, M. Bittner, J. Becerra, RBFAR. 23, 44-50, (2013).
A. Cilla, A. González-Sarrías, F. Tomás-Barberán, J. Espín, R. Barberá, Food Chem. 114, 813-820, (2009).
S. Perales, R. Barberá, M. Lagarda, R. Farré, J. Agric. Food Chem. 53, 3721-3726, (2005).
E. Pastene, H. Speisky, M. Troncoso, J. Alarcón, G. Figueroa, J. Agric. Food Chem. 57, 7743-7749, (2009).
W. Oleszek, & Z. Bialy, J. Chromatogr. A. 1112, 78-91, (2006).
M. Cho, L. Howard, R. Prior, J. Clark, J. Sci. Food Agric. 84,1771-1782, (2004).
M. Buresi, E. Schleihauf, N. Vergnolle, A. Buret, J. Wallace, M. Hollenberg, W. MacNaughton, Am. J. Physiol. Gastrointest. Liver Physiol. 281, G323-332, (2001).
J. Ren, H-J. Huang, Y. Gong, S. Ywe, Li-M. Tang, S. Cheng, Cell & Bioscience. 4, 26, (2014).
M. Karagozlu, F. Karadeniz, C. Kong, S. Kim, Carbohydr. Polym. 87,1383-1389, (2012).
M. Bermúdez-Soto, M. Larrosa, J. García-Cantalejo, J. Espín, F. Tomás Barberán, García- M. Conesa, J. Nutr. Biochem. 18, 259-271, (2007).
S. Kamo, S. Suzuki, T. Sato, Nutrition. 30, 596-601, (2014).
G. Wang, J. Zhang, A. Dewilde, A. Pal, D. Bello, J. Therrien, S. Braunhut, K. Marx, Toxicology. 299, 99-111, (2012).
M. Avello, Tesis para optar al grado de Doctor en Ciencias Biológicas, área Botánica, (2013).
S. Flis, Z. Jastrzebski, J. Namiesnik, P. Arancibia, F. Toledo, H. Leontowicz, M. Leontowicz, M. Suhaj, S. Trakhtenberg, S. Gorinstein, J. Pharm. Biomed. Anal. 62, 68-7, (2012).
M. Dall'Asta, L. Calani, M. Tedeschi, L. Jechiu, Nutrition. 28,197-203, (2012).
M. Krook & A. Hagerman, Food Res. Int. 49,112-116, (2012).
O. Andersen, K. Markham, Flavonoids: Chemistry, Biochemistry and Applications. CRC Press, USA, (2006).
M. Selma, J. Espín, F. Tomás-Barberán, J. Agr. Food Chem. 57,6485-6501, (2009).