Vol 65 No 3 (2020): Journal of the Chilean Chemical Society
Original Research Papers
CITATION OF THE SCIENTIFIC PRODUCTIVITY OF CHEMISTS IN CHILE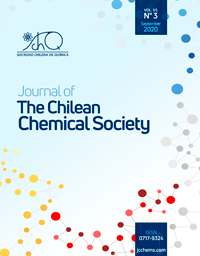 Published
September 10, 2020
Keywords
Self-citations

,

H-index

,

Chemists

,

Chile
How to Cite
Rivas, B. L., & Palacio, D. A. (2020). CITATION OF THE SCIENTIFIC PRODUCTIVITY OF CHEMISTS IN CHILE. Journal of the Chilean Chemical Society, 65(3), 4888-4890. Retrieved from https://jcchems.com/index.php/JCCHEMS/article/view/1565
Copyright (c) 2020 SChQ
This work is licensed under a Creative Commons Attribution-NonCommercial-ShareAlike 4.0 International License.
Abstract
It is very relevant give the scientific productivity to the world scientific community as well as to the society. One of the most common and important media is through published papers in Journals recognized for different international sources and also measured by the impact factor. One the last factor has been the Hirsh index or H-index. The current contribution gives information of the chemists in Chile with H-index higher or equal 20 with respect to the self- citation (T) according to the recent publication.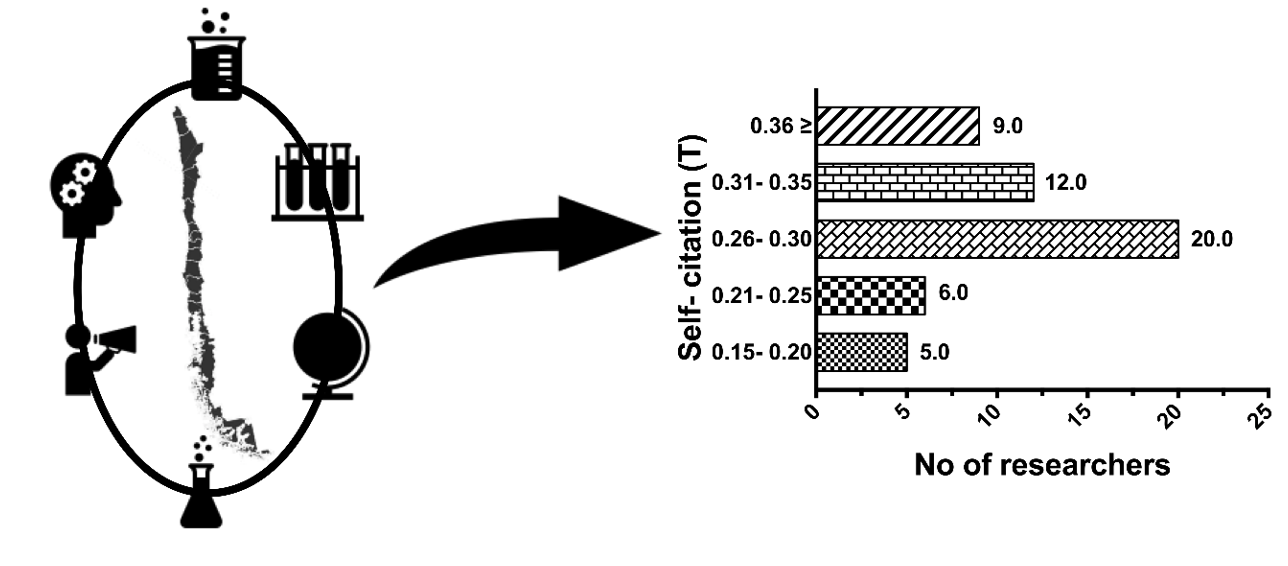 References
Alvarez, P.; Arellano, A.; Ibánez, P.; Moreno, D.; Mujica, F.; Piedras, J.; Tromben, C.; Urzúa, C.; Balcells, M. Conicyt 2010.
Shehatta, I.; Al-Rubaish, A. M. Scientometrics 2019, 120, 775.
Hirsch, J. E. PNAS 2005, 102, 16569.
Kinney, A. L. PNAS 2007, 104, 17943.
Ferrara, E.; Romero, A. E. Journal of the American Society for Information Science and Technology 2013, 64, 2332.
Amjad, T.; Daud, A.; Aljohani, N. R. Library Hi Tech 2018, 36, 97.
Zhao, F.; Zhang, Y.; Lu, J.; Shai, O. Scientometrics 2019, 118, 1119.
Dunaiski, M.; Geldenhuys, J.; Visser, W. Journal of Informetrics 2018, 12, 679.
Amjad, T.; Rehmat, Y.; Daud, A.; Abbasi, R. A. Scientometrics 2020, 122, 915.
Bu, Y.; Ding, Y.; Xu, J.; Liang, X.; Gao, G.; Zhao, Y. Journal of the Association for Information Science and Technology 2018, 69, 87.
Glänzel, W.; Debackere, K.; Thijs, B.; Schubert, A. Scientometrics 2006, 67, 263.
Sandnes, F. E. Scientometrics 2020, 124, 1685.
Van Noorden, R.; Singh Chawla, D. Nature 2019, 572, 578.
Haugen, K. K.; Sandnes, F. E. Scientometrics 2016, 109, 1299.
Wolfgang, G.; Bart, T.; Balázs, S. Scientometrics 2004, 59, 63.