Vol 66 No 2 (2021): Journal of the Chilean Chemical Society
Original Research Papers
BENZIMIDAZOLE MOLECULE AS NEW ANTICANCER AGENT; DESIGN, SYNTHESIS AND ADMET PREDICTION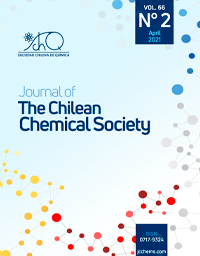 Keywords
Benzimidazole, Oxadiazole, Lipinski's rule, OSIRIS Property, Pre ADMET, Anticancer activity
How to Cite
Rashid, D. M. R. (2021). BENZIMIDAZOLE MOLECULE AS NEW ANTICANCER AGENT; DESIGN, SYNTHESIS AND ADMET PREDICTION. Journal of the Chilean Chemical Society, 66(2), 5164-5182. Retrieved from https://jcchems.com/index.php/JCCHEMS/article/view/1492
Copyright (c) 2021 SChQ
This work is licensed under a Creative Commons Attribution-NonCommercial-ShareAlike 4.0 International License.
Abstract
A new series of benzimidazole clubbed with oxadiazole ring with second amine (4a-l) were design and synthesize with an intention to search an anticancer lead compound under microwave irradiation in good yields. Further, the synthetic compounds were spectral characterization with modern instrumental techniques such as FTIR, NMR (1H and 13C), MS and elemental analysis. Anticancer activities of synthesized compounds were investigated at the National Cancer Institute (NCI) against NCI 60 cell line panel, results showed good to notable anticancer activity. With the help of molinspiration, drug like properties and bioactivity score for drug targets of synthetic compounds were predicted and found to obey the Lipinski's rule, and result indicates that the derivatives are orally active molecules. Osiris property explorer was used for the prediction of drug relevant properties and toxicity of synthetic compounds. Pre ADMET and Lazar toxicity was also used to estimate the ADME and toxicity of the synthetic compounds. So that, these new hybrids compounds could serve as potential template to become leads in near future for the discovery and development of new effect orally drugs molecules. Two compounds, 4c [1-(1H-benzo[d]imidazol-2-yl)-3-(5-((4-methylpiperazin-1-yl)methyl)-1,3,4 -oxadiazol-2-yl) propan-1-one] and 4k [3-((5-(3-(1H-benzo[d]imidazol-2-yl) -3-oxopropyl)-1, 3, 4-oxadiazol-2-yl) methyl)-5-methylpyrimidine-2,4(1H, 3H)-dione] were exhibited highest drug score and emerged as lead compounds and motivates for further development of more effective and safer compounds.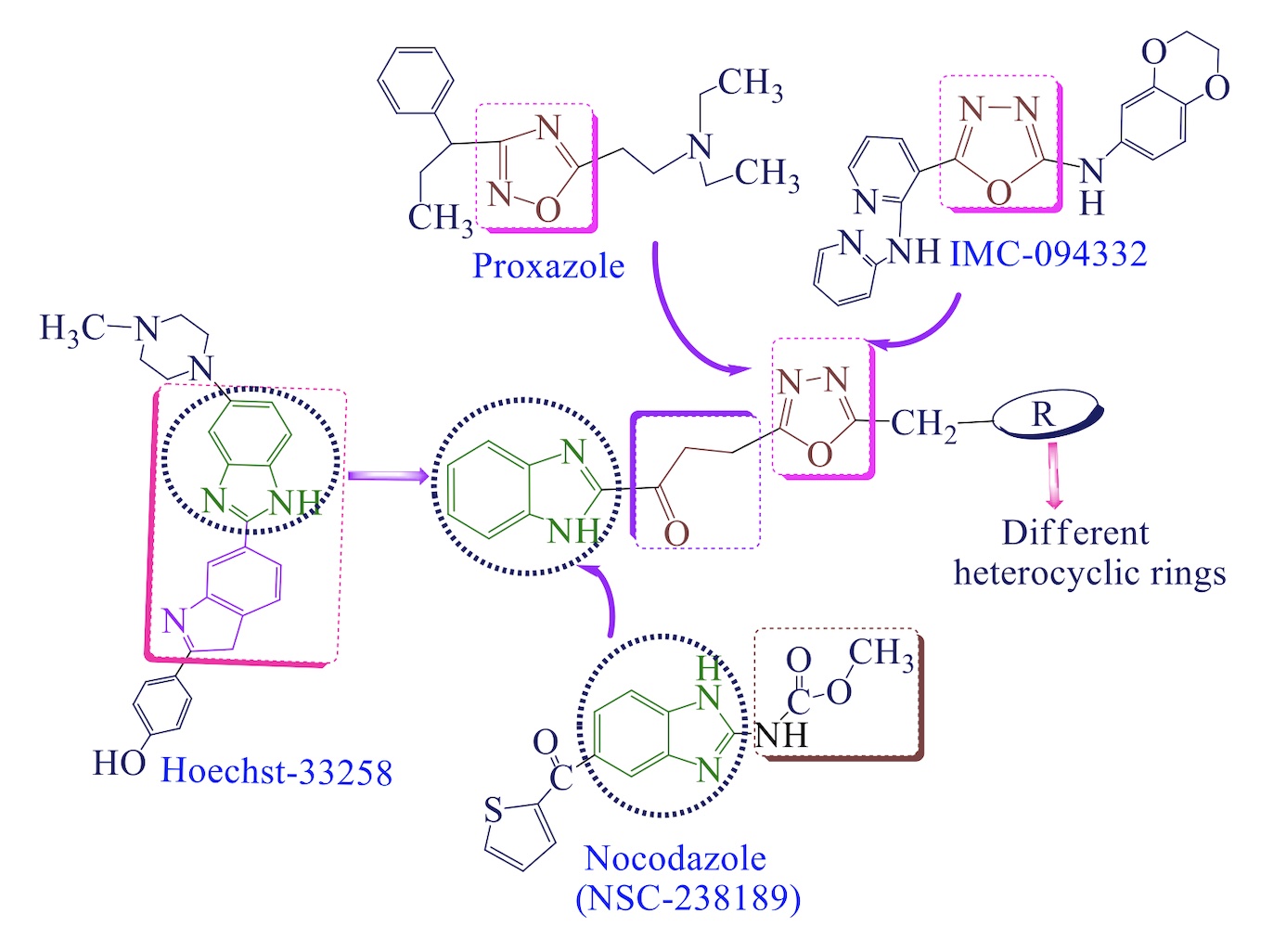 References
Satoh M, Cherian MG (1994) Modulation of resistance to anticancer drugs by inhibition of metallothionein synthesis. Imura Cancer Res 54: 5255.
Zhang K, Mack T, Kim PW (1998) Inhibitors of Multidrug Resistance to Antitumor Agents. Int J Oncol 12: 971.
Verweij J, Dejonge MJA (2000) Achievements and future of chemotherapy. Eur J Cancer 36: 1479.
Volm M (1998) Multidrug resistance and its reversal. Anticancer Res 18: 2905.
Vita VT, Hellman S, Rosenberg SA (1992) Cancer principle practical oncology. 4th ed. Philadelphia, J.B. Lippincott, Co., USA.
Hartwell LH, Kashan MB (1994) Cell cycle control and cancer. Science 266: 1821.
Li Y, Tan C, Gao C, Zhang C, Luan X, Chen X, Liu H, Chen Y, Jiang Y (2011) Discovery of benzimidazole derivatives as novel multi-target EGFR, VEGFR-2 and PDGFR kinase inhibitors. Bioorg Med Chem 19: 4529.
Demirayak S, Kayagil I, Yurttas L (2011) Microwave supported synthesis of some novel 1,3-diarylpyrazino[1,2-a]benzimidazole derivatives and investigation of their anticancer activities. Eur J Med Chem 46: 411.
Husain A, Rashid M, Siddiqui AA, Mishra R (2013) Benzimidazole clubbed with triazolo-thiadiazoles and triazolo-thiadiazines: New anticancer agents. Eur J Med Chem 62: 785-798.
Husain A, Rashid M, Mishra R, Praveen S, Shin DS, Kumar D (2012) Benzimidazole bearing oxadiazole and triazolo-thiadiazoles nucleus: Design and synthesis as anticancer agents. Bioorg Med Chem Lett 22: 5438-5444.
Sondhi SM, Rani R, Singh J, Roy P, Agrawal SK, Saxena AK (2010) Solvent free synthesis, anti-inflammatory and anticancer activity evaluation of tricyclic and tetracyclic benzimidazole derivatives. Bioorg Med Chem Lett 20: 2306.
Penning TD, Zhu GD, Gandhi VB, Gong J, Liu X, Shi Y, Klinghoffer V, Johnson EF, Donawho CK, Frost DJ, DiazBouska VB, Osterling DJ, Olson AM, Marsh KC, Luo Y, Giranda VL (2009) Discovery of the Poly(ADP-ribose) polymerase (PARP) inhibitor 2-[(R)-2-methylpyrrolidin-2-yl]-1H-benzimidazole-4-carboxamide (ABT-888) for the treatment of cancer. J Med Chem 52: 514.
Rashid M, Husain A, Mishra R (2012) Synthesis of benzimidazoles bearing oxadiazole nucleus as anticancer agents. Eur J Med Chem 54: 855-866.
Rashid M, Husain A, Mishra R, Karim S, Khan S, Ahmad M, Al-wabel N, Husain A, Ahmad A, Khan SA (2015) Design and synthesis of benzimidazoles containing substituted oxadiazole, thiadiazole and triazolothiadiazines as a source of new anticancer agents. Arab J Chem 3: 2341-2356.
Rashid M, Husain A, Shaharyar M, Sarafroz M (2014) Anticancer Activity of New Compounds Using Benzimidazole as a Scaffold. Anti-Cancer Agents in Med Chem 14: 1003-1018.
Husain A, Varshney MM, Rashid M, Mishra R, Akhter A (2011) Benzimidazole: A Valuable Insight in to the Recent Advances and Biological Activities. J Pharm Res 4: 413-419.
Lio SC, Johnson J, Chatterjee A, Ludwig JW, Millis D, Banie H, Sircar JC, Sinha A, Richards ML (2008) Disruption of golgi processing by 2-phenyl benzimidazole analogs blocks cell proliferation and slows tumor growth. Can Chemo Pharmaco 61: 1045.
Goker H, Kus C, Boykin DW, Yldz S, Altanlar N (2002) Synthesis of some new 2-substituted-phenyl-1H-benzimidazole-5-carbonitriles and their potent activity against Candida species. Bioorg Med Chem 10: 2589.
Kerimov I, Kilcigil GA, Eke BC, Altanlar N (2007) Synthesis, antifungal and antioxidant screening of some novel benzimidazole derivatives. J Enzyme Inhib Med 17: 696.
Sharma D, Narasimhan B, Kumar P, Judge V, Narang R, Clercq ED, Balzarini J (2009) Synthesis, antimicrobial and antiviral activity of substituted benzimidazoles. J Enzyme Inhib Med 24: 1161.
Kumar BVS, Vaidya SD, Kumar RV, Bhirud SB, Mane RB (2006) Biological activity evaluation of novel n-heterocyclic carbene precursors. Eur J Med Chem 41: 599.
Francisca P, Helgi JC, Jaime PV, Juan CP, Sergio RM, Guadalupe PH, Nayeli LB, Alicia HC, Rafael C, Francisco HL (2009) Synthesis and in-vitro cysticidal activity of new benzimidazole derivatives. Eur J Med Chem 44: 1794.
Padmavathi V, Reddy SG, Padmaja A, Kondaiah P, Shazia A (2009) Synthesis, antimicrobial and cytotoxic activities of 1,3,4-oxadiazoles, 1,3,4-thiadiazoles and 1,2,4-triazoles. Eur J Med Chem 44: 2106.
El-Sayed NS, El-Bendary ER, El-Ashry SM, El-Kerdawy MM (2011) Synthesis and antitumor activity of new sulfonamide derivatives of thiadiazolo[3,2-a]pyrimidines. Eur J Med Chem 46: 3714.
Formagio ASN, Tonin LTD, Foglio MA, Madjarof C, Carvalho JE, Costa WFD, Cardoso FP, Sarragiotto MH (2008) Synthesis of pyrrolo [2, 1-c] [1, 4] benzodiazepines. Bioorg Med Chem 16: 9660.
Matysiak J (2007) Evaluation of electronic, lipophilic and membrane affinity effects on antiproliferative activity of 5-substituted-2-(2,4-dihydroxyphenyl)-1,3,4-thiadiazoles against various human cancer cells. Eur J Med Chem 42: 940.
Lissitchkov T, Arnaudov G, Peytchev D, Merkle KJ (2006) Phase-I/II study to evaluate dose limiting toxicity, maximum tolerated dose, and tolerability of bendamustine HCl in pre-treated patients with B-chronic lymphocytic leukaemia (Binet stages B and C) requiring therapy. Canc Res Clin Onco 132: 99.
Knauf WU, Lissichkov T, Aldaoud A (2009) Phase III randomized study of bendamustine compared with chlorambucil in previously untreated patients with chronic lymphocytic leukemia. J Clin Onco 27: 4378.
Dalip K, Gautam P, Angela K, Chavers Kuei HC, Kavita S (2011) Synthesis of novel 1,2,4-oxadiazoles and analogues as potential anticancer agents. Eur J Med Chem 46: 3085-3098.
Maria CT, Asra M, Xiaohu O, David S, James F, Stan M, Margarita C, Bridget F, Jacqueline D. Eugene LP, Chekler PK, James RT (2010) Antitumor Activity of IMC-038525, a Novel Oral Tubulin Polymerization Inhibitor. Im Clon Systems. Inc. New York, USA, 3: 318.
Tolner B, Hartley JA, Hochhauser D (2001) Transcriptional regulation of topoisomerase II alpha at confluence and pharmacological modulation of expression by bis-benzimidazole drugs. Mol Pharmacol 59: 699.
Duanmu C, Shahrik LK, Holly HH, Hamel E (1989) Tubulin-dependent hydrolysis of guanosine triphosphate as a screening test to identify new antitubulin compounds with potential as antimitotic agents: application to carbamates of aromatic amines. Cancer Res 49: 1344-1348.
Lipinski CA, Lombardo F, Dominy BW, Feeney PJ (1997) Experimental and computational approaches to estimate solubility and permeability in drug discovery and development settings. Adv Drug Deliver Rev 23: 4-25.
Ertl P, Rohde B, Selzer P (2000) Fast calculation of molecular polar surface area as a sum of fragment-based contributions and its application to the prediction of drug transport properties. J Med Chem 43: 3714-3717.
Molinspiration software (www.molinspiration.com/cgi-bin/properties).
Teague SJ, Davis AM, Leeson PD, Oprea T, Angew (1999) The Design of Lead like Combinatorial Libraries. Chem Int Ed 38: 3743.
Ghose AK, Viswanadhan VN, Wendoloski JJ (1999) A knowledge-based approach in designing combinatorial or medicinal chemistry libraries for drug discovery; A qualitative and quantitative characterization of known drug databases. J Comb Chem 1: 55.
Oprea TI (2000) Property distribution of drug-related chemical databases. J Comp Aided Mol Des 14: 251.
Kulkarni A, Han Y, Hopfinger AJJ (2002) Predicting Caco-2 cell permeation coefficients of organic molecules using membrane-interaction QSAR analysis, Chem. Inf Comput Sci 42: 331.
Veber DF, Johnson SR, Cheng HY, Smith BR, Ward KW, Kopple KD (2002) Molecular properties that influence the oral bioavailability of drug candidates. J Med Chem 45: 2615-2623.
Bhutani R, Pathak DP, Kapoor G, Husain A, Iqbal MA (2019) Novel hybrids of benzothiazole-1,3,4-oxadiazole-4-thiazolidinone: Synthesis, in-silico ADME study, molecular docking and in-vivo anti-diabetic assessment. Bioorg Chem 83: 6-19.
Faizia M, Jahania R, Ebadib SA, Tabatabaic SA, Rezaeec E, Lotfalieic M, Aminid M, Almasirad A (2017) Novel 4-thiazolidinone derivatives as agonists of benzodiazepine receptors: design, synthesis and pharmacological evaluation. EXCLI J 16: 52-62.
Kapoor G, Pathak DP, Bhutani R, Husain A, Jain S, Iqbal MA (2019) Synthesis, ADME, docking studies and in-vivo anti-hyperglycaemic potential estimation of novel Schiff base derivatives from octadec-9-enoic acid. Bioorg Chem 84: 478-492.
Husain A, Ahmad A, Khan SA, Asif M, Bhutani R, Al-Abbasi FA (2016) Synthesis, molecular properties, toxicity and biological evaluation of some new substituted imidazolidine derivatives in search of potent anti-inflammatory agents. Saudi Pharm J 24: 104-114.
Asif M, Acharya M, Lakshmayya Singh A (2015) In-silico physicochemical bioactivities and toxicities prediction of 3-chloro-6-arylpyridazines and 6-aryl- 4,5-dihydropyridazine-3(2H)-thiones having antitubercular activity. RGUHS J Pharm Sci 5: 81-87.
Namachivayam B, Raj JS, Kandakatla N (2014) 2D, 3D-QSAR, docking and optimization of 5-substituted-1H-Indazole as inhibitors of GSK3β. Int J Pharm Pharm Sci 6: 1-8.
Hassan M, Ashraf Z, Abbas Q, Raza H (2018) Exploration of novel human tyrosinase inhibitors by molecular modeling, docking and simulation studies. Interdisciplinary Sci 3: 234.
Bhat AR, (2018) Petra, Osiris and Molinspiration: A computational bioinformatic platform for experimental in-vitro antibacterial activity of annulated uracil derivatives. Iranian Chemical Commun 7: 234.
Jamuna S, Rathinavel AK, Sadullah S, Sadullah M, Devaraj S (2018) In-silico approach to study the metabolism and biological activities of oligomeric proanthocyanidin complexes. Indian J Pharmacol 50: 242-250.
Joshi A, Kumar R, Sharma A (2018) Molecular docking studies, bioactivity score prediction, drug likeness analysis of gsk-3 β inhibitors: a target protein involved in alzheimer's disease. Biosci Biotech Res Asia 15: 562-573.
Kumar SA, lakshmi NR, Priya SB, latha, BH, Megalai PM (2018) In-silico design, docking, and synthesis of 3-hydroxy-3-methylglutaryl-coenzyme A reductase inhibitors. Drug Inven. Today 10 (12): 2568-2581.
Molecular property explorer, OSIRIS properties [internet], 2014 [cited 2014 Nov 26], Available from http://www.organic-chemistry.org/prog/peo/drugscore.
Thomas S (2001) Actelion's property explorer, Actelion's Pharmaceuticals Ltd., Gewer bestrasse, 16: 4123 Allschwil, Switzerland.
Balakrishnan N, Raj JS, Kandakatla N (2015) In-silico studies on new indazole derivatives as Gsk-3β inhibitors. Int J Pharm Pharm Sci 7: 295-299.
Jagadish PC, Soni N, Verma A (2013) Design, synthesis and in-vitro antioxidant activity of 1, 3, 5-trisubstituted-2-pyrazolines derivatives. J Chem 4: 1-7.
Proudfoot JR (2002) Drugs, leads and drug-likeness: an analysis of some recently launched drugs. Bioorg Med Chem Lett 12(12): 1647-50.
Parua S, Sikari R, Singha S, Chakraborty G, Mondal R, Paul ND (2018) Accessing Polysubstituted Quinazolines via Nickel Catalyzed Acceptorless Dehydrogenative Coupling. J Org Chem 83: 11154-11166.
Caterina MC, Perillo IA, Boiani L, Pezaroglo H, Cerecetto H, Gonzalez M, Salerno A (2008) Imidazolidines as new anti-trypanosoma cruzi agents: biological evaluation and structureactivity relationships. Bioorg Med Chem 16: 2226-2234.
He T, Shi R, Gong Y, Jiang G, Liu M, Qian S, Wang Z (2016) Base-Promoted Cascade Approach for the preparation of reduced knoevenagel adducts using hantzsch esters as reducing agent in water. synlett 27: 1864-1869.
Lee SK, Chang GS, Lee IH, Chung JE, Sung KY, No KT (2004) The PreADME: Pc-Based program for batch prediction of ADME properties. Euro QSAR 9.5-10, Istanbul, Turkey.
lbert LP (2001) Screening for human ADME/Tox drug properties in drug discovery. DDT 6: 357-366.
Lee SK, Lee IH, Kim HJ, Chang GS, Chung JE, No KT (2003) The PreADME Approach: web-based program for rapid prediction of physicochemical, drug absorption and drug-like properties. Euro QSAR 2002 designing drugs and crop protectants: processes, problems and solutions, black well publishing, Massachusetts, USA, 418-420.
Irvine JD, Takahashi L, Lockhart K, Cheong J, Tolan JW, Selick HE, Grove R (1999) MDCK (Madin-Darby canine kidney) cells: A tool for membrane permeability screening. J Pharm Sci 88: 28.
Riedmiller M, Braun H (1993) A direct adaptive method for faster back-propagation learning: The Rprop algorithm. In Ruspini, H. editor, Proceedings of the IEEE international conference on neural networks (ICNN). San Francisco 5: 586-591.
Bhakat S, (2012) Designing of a new anticancer agent: An Internet based drug design approach. Intern J Drug Desi Dis 3: 898-906.
Puratchikody A, Doble M, Ramalakshmi N (2011) Toxicity risk assessment of some novel quinoxalines. Rasayan J Chem 4(3): 636-9.
Lin JH, Yamazaki M (2003) Role of P-glycoprotein in pharmacokinetics; clinical implications. Clinic Pharmaco 42: 59.
Ames BN, Gurney EG, Miller JA, Bartsch, H (1972) Carcinogens as frameshift mutagens: metabolites and derivatives of 2-acetylaminofluorene and other aromatic amine carcinogens. Proc Nat Acad Sci 69: 3128-3132.
Ames BN, Gurney, EG, Miller JA, Bartsch, H (1973) Carcinogens as frameshift mutagens: metabolites and derivatives of 2-acetylaminofluorene and other aromatic amine carcinogens. PNAS 69: 3128-213.
Kola I, Landis J (2004) Can the pharmaceutical industry reduce attrition rates. Nature Rev Drug Disc 3: 711.
Vadlamudi P, Barik MR (2012) In-silico designing and development of potent drug inhibitor to MDM2 protein in cancer through molecular docking studies. J Chem Pharm Res 4: 2037-2042.
Ames test (2012, May 12). In Wikipedia, the Free Encyclopedia. Retrieved 14:44, May 21, 2012, fromhttp://en.wikipedia.org/w/index.php?title=Ames_test&oldid=492194122.
Zhang L, Brett CM, Giacomini KM (1998) Hayes' principles and methods of toxicology. Ann Rev Pharma Tox 38: 431.
Pradhan S, Mondal S, Sinha C (2016) In search of Tuberculosis drug design: An in-silico approach to azoimidazolyl derivatives as antagonist for Cytochrome P450. J Indian Chem Soc 93: 1-18.
Peter EJ (1999) Maurice Dickins, Advances in in-vitro drug metabolism screening. PSTT 2: 13-19.
Shoemaker RH (2006) The NCI60 human tumour cell line anticancer drug screen. Nat Rev Cancer 6: 813-823.
Rashid M (2020) Design, synthesis and ADMET prediction of bis-benzimidazole as anticancer agent. Bioorg. Chem. 96: 103576.
Monks A, Scudiero D, Skehan P, Shoemaker R, Paull K, Vistica D, Hose C, Langley J, Cronise P (1991) Molecular targets in the National Cancer Institute drug screen. J Natl Cancer Inst 83: 757-766.
Skehan P, Storeng R, Scudiero D, Monks A, Mcmahon J, Vistica D, Warren JR, Bokesch H, Kenney S, Boyd MR (1990) Anticancer Activity of Novel Daphnane Diterpenoids from Daphne genkwa through Cell-Cycle Arrest and Suppression of Akt/STAT/Src Signalings in Human Lung Cancer Cells. J Natl Cancer Inst 82: 1107-1112
Grever MR, Schepartz SA, Chabner BA (1992) The National Cancer Institute: cancer drug discovery and development program. Semin Oncol 19: 622-638.
Boyd MR, Paull KD (1995) The NCI in-vitro anticancer drug discovery screen. Drug Dev Res 34: 91-109.