Vol 65 No 3 (2020): Journal of the Chilean Chemical Society
Original Research Papers
SYNTHESIS AND CRYSTAL STRUCTURE ANALYSIS OF A NEW CHALCONE DERIVATIVE OF APOCYNIN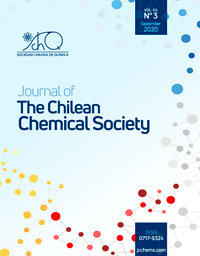 Published
September 13, 2020
Keywords
Apocynin derivative, chalcone, crystal structure.
How to Cite
Moreno, Y. (2020). SYNTHESIS AND CRYSTAL STRUCTURE ANALYSIS OF A NEW CHALCONE DERIVATIVE OF APOCYNIN. Journal of the Chilean Chemical Society, 65(3), 4934-4936. Retrieved from https://jcchems.com/index.php/JCCHEMS/article/view/1486
Copyright (c) 2020 SChQ
This work is licensed under a Creative Commons Attribution-NonCommercial-ShareAlike 4.0 International License.
Abstract
In the present report we present the synthesis and structural analysis of a chalcone derivative of Apocynin, 1-(4-hydroxy-3-methoxyphenyl)-3-(4-nitrophenyl)-2-propenone.
The most characteristic feature of its molecular structure is its near-planarity, allowing molecules to be stacked in columns, at graphite intermolecular distances to each other and connected by a large variety of weak intermolecular interactions.
The molecule presents structural analogies to related ones with significant pharmacological properties (e.g., Apocynin).

References
References
Robert F Klees 1 , Paul C De Marco, Roman M Salasznyk, Disha Ahuja, Michael Hogg, Sylvain Antoniotti, Lakshmi Kamath, Jonathan S Dordick, George E Plopper
J Biomed Biotechnol, 2, 87246 (2006).
Vogel, S., Barbic, M., JurgenlIemk, G. and Heilmann, J. European Journal of Medicinal Chemistry. 45, 2206-2213 (2010).
Aponte, J. C., Castillo, D., Estevez, Y., Gonzalez, G., Arevalo, J., Hammond, G. B. and Sauvain, M. Chemistry Letters. 20, 100-103, (2010).
Tadigoppula, N., Korthikunta, V., Gupta, S., Kancharla, P., Khaliq, T., Soni, A., Srivastava, R. K., Srivastava, K., Puri, S. K. and Raju, K. S. R. Journal of Medicinal Chemistry. 56, 3145 (2012).
Ameta, K., Kumar, B. and Rathore, N. S. Journal of Chemistry. 8: 665-670 (2011).
Doan, T. N. and Tran, D. T. Pharmacology and Pharmacy. 2: 282-288 (2011).
Syam, S., Abdelwahab, S. I., Al-mamary, M. A. and Mohan, S. Molecules. 17: 6179-6195 (2012).
Asiri, A. M. and Khan, S. A. Molecules. 16: 523-531 (2011).
9 Nur Izzati Ismail ,Lee Ming-Tatt ,Nordin Lajis ,Muhammad Nadeem Akhtar ,Ahmad Akira ,Enoch Kumar Perimal ,Daud Ahmad Israf andMohd Roslan Sulaiman. Molecules , 21(8), 1077 (2016).
10 Benso B1, Bustos D2, Zarraga MO3, Gonzalez W4, Caballero J2, Brauchi S5.Int J Biochem Cell Biol. 112,18-23 (2019).
Mark F McCarty, James J DiNicolantonio, and James H O'Keefe . Open Heart. 2(1): e000262 (2015).
Crystallography Reports, volume 62, pages1157–1159(2017)
Sheldrick G.M. ActaCrystallogr. A64 pp. 112–122 (2008).
Sheldrick, G.M. ActaCrystallogr. C71 pp 3–8 (2015).
Spek, A.L. ActaCrystallogr. D65 pp. 148–155 (2009).
Kitaigorodskii, A. I. In Organic Chemical Crystallography. New York: Consultants Bureau (1961).