Vol 65 No 2 (2020): Journal of the Chilean Chemical Society
Original Research Papers
IDENTIFICATION OF WATER-SOLUBLE COMPOUNDS CONTAINED IN AQUEOUS EXTRACTS AND FRACTIONS OBTAINED FROM LEAVES OF UGNI MOLINAE TO DETERMINE THEIR EFFECT ON THE VIABILITY OF HUMAN GASTRIC CANCER CELLS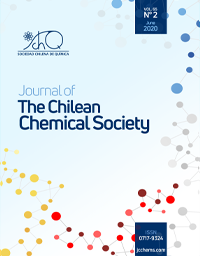 Keywords
Aqueous extract

,

Viability

,

AGS

,

Ugni molinae
Copyright (c) 2020 Journal of the Chilean Chemical Society
This work is licensed under a Creative Commons Attribution-NonCommercial-ShareAlike 4.0 International License.
Abstract
Ugni molinae Turcz. Myrtaceae (Murtilla) is a plant native to Chile. There is evidence about the antiproliferative compounds present in fruits, but there is no evidence on the antiproliferative activity of the compounds in the leaves. These compounds have importance because they predominate in the popular form of ingestion of leaves. In the present study, the identification of water-soluble components of leaves of U. molinae and a fractionation were carried out to determine the effect on viability of gastric adenocarcinoma cells (AGS).
A decoct of leaves was performed at 1%. For the separation of fractions, a countercurrent system (CPC) was used. Leaves were collected and identified by thinlayer chromatography and liquid chromatography-mass spectrometry (HPLC MS/MS). Samples were evaluated to determine the viability of AGS cells by 3-(4,5-Dimethylthiazol-2-yl)-2,5-diphenyltetrazolium bromidefor (MTT) assays. 
Three large fractions were identified. In the first one, the phenolic compounds of medium polarity and low molecular weight (phenolic acids) are found. In The second fraction shows low concentrations of phenolic compounds with greater molecular weight (glycosylated and gallolylated flavonoids); and the third, has a predominance of hydrolysable tannins, procianidins and other highly hydrophilic compounds. About cell viability, it was found that, the 1% extract is the one that presented the best effects on cell viability inhibition, in comparation to tannin and flavonoid fractions.
In conclusion, there is synergy in the compounds present in the aqueous extract, which causes greater inhibition of cell viability, unlike the separated fractions.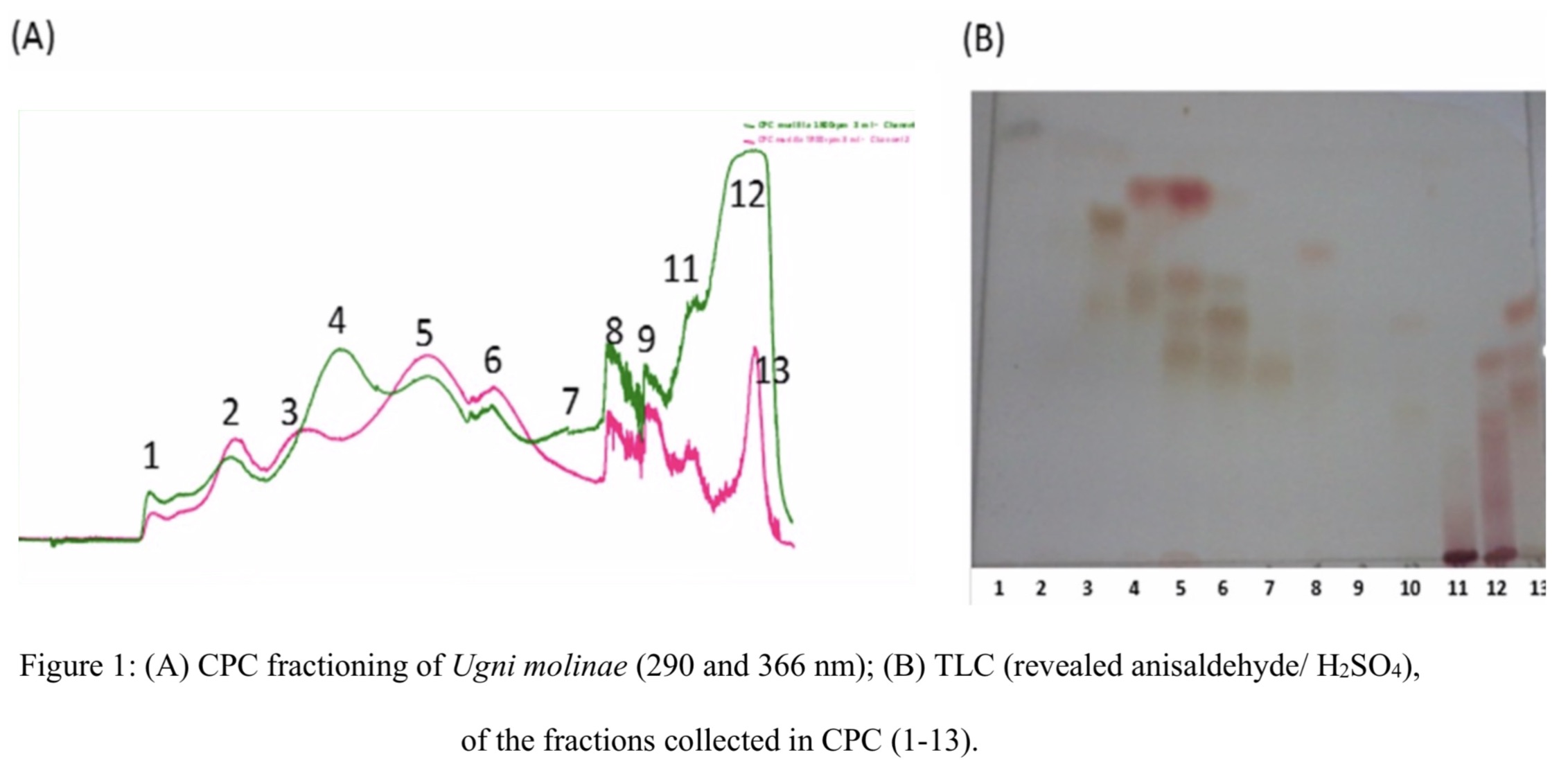 References
- L. Puente-Díaz, K. Ah-Hen, A. Vega-Gálvez, R. Lemus-Mondaca, K. Di Scala. Dry Technol. 31:329-338, (2013).
- K. Rodríguez, K. Ah-Hen, A. Vega-Gálvez, J. López, I. Quispe-Fuentes, R. Lemus-Mondaca. Int. J. Food Sci. Tech. 49:990-100, (2014).
- C.A. Hauser, A. Peñaloza, F. Rodríguez, A. Guarda, M.J. Galotto. Food Packag. Shelf Life 1:77-85, (2014).
- M. Suwalsky, P. Orellana, M. Avello, F. Villena, Food Chem. Toxicol. 45:130–135, (2007)
- M. Avello, E. Pastene, E. Bustos, M. Bittner, J. Becerra. RBFAR. 23(1):44-50, (2013).
- M. Peña-Cerda, Arancibia-Radich, J. Valenzuela-Bustamante, P. Pérez-Arancibia, R. Barriga, A. Seguel, Delporte, C. Food chem. 215, 219-227, (2017).
- J. López, Gálvez, A. V. Rodríguez, A. Uribe, E. Chil. j. agric. anim. sci. (ex Agro-Ciencia). 34(1), 43-56, (2018).
- M. Avello. Tesis para optar al grado de Doctor en Ciencias Biológicas, área Botánica, (2013).
- M. P. Junqueira-Gonçalves, Yáñez, L. Morales, C. Navarro, M. A Contreras, R, Zúñiga, G. E. Molecules. 20(4), 5698-5713, (2015).
- M. Avello, E. Pastene, A. Barriga, M. Bittner, E. Ruiz, J. Becerra. Rev. cuba. plantas med. 21(3), 285-297, (2017).
- M. Avello and E. Pastene. Bol. latinoam. Caribe plantas med. aromát. 4(2), 33-39, (2005).
- M. Polikandrioti, E. Gerasimou, G. Kotronoulas, A. Tsami, E. Evagelou, H. Kyritsi. Nosileftiki. 49:377-386, (2010).
- S. Flis, Z. Jastrzebski, J. Namiesnik, P. Arancibia, F. Toledo, H. Leontowicz, M. Leontowicz, M. Suhaj, S. Trakhtenberg, S. Gorinstein. J. Pharm. Biomed. Anal. 62:68-78, (2012).
- J. Landete. Food Res. Int. 44:1150-1160, (2011).
- O. Andersen, K. Markham. CRC Press. Taylor & Francis Group, (2006).
- E. Pastene, H. Speisky, M. Troncoso, J. Alarcón, G. Figueroa. J. Agric. Food Chem. 57:7743-7749, (2009)
- W. Oleszek, Z. Bialy. J. Chromatogr. A. 1112:78-91, (2006).
- M. Cho, L. Howard, R. Prior, J. Clark. J. Sci. Food Agric. 84(13):1771-1782, (2004).
- Y. Velioglu, G. Mazza, L. Gao, B. Oomah. J. Agric. Food. Chem. 46:4113-4117, (1998).
- H. Lastra, E. Rodríguez, H. Ponce, M. González. Rev. Cubana Plant. Med. 5(1):17-22, (2000)
- G. Salamanca, I. Correa, J. Principal. Zootecnia Trop. (25)2:95-102, (2007).
- O. Hideaki, K. Shigeo, S. Shoji. Planta Med. 33:152-159, (1978).
- M. Karagozlu, F. Karadeniz, C. Kong, S. Kim. Carbohydr. Polym. 87:1383-1389, (2012).